Wynn-Smith Landscape Architecture, Inc. (WSLA) was established in 1993 based on the desire to develop projects that are holistically sensitive to the environment and to create a working atmosphere that fosters close and long-term relationships with our clients and the public.
With these objectives, we have had the wonderful opportunity to design outdoor spaces across the United States, Europe and Mexico. Our work involves all phases of master planning, design development, construction documents and construction administration for Equestrian Facilities and Farms, Parks, Urban Spaces, Schools, Commercial Properties, Residences, Resorts and a variety of other interesting projects.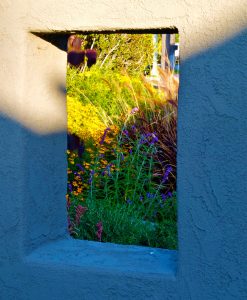 DESIGN PHILOSOPHY
In the beginning of each project we ask ourselves, "What does the space, or the use of the space really reflect?" The answer, when thoughtfully considered, will guide the design of the overall layout of spaces as well as the details, whether it be an urban public space or a small residential garden. The result is a design that is inspiring, harmonious, and unique.
Throughout the design process, it is most important to our philosophy that the client remains involved so that the project reflects not only our vision but meets the needs and desires of the client/users. As our interaction with the client expands and after studying the site's natural characteristics, such as geographic local, soils, vegetation, terrain, winds, sounds, smells and views, the vision for the project begins to unfold uniquely to that site.
LANDSCAPE ARCHITECTURE SERVICES
Site Analysis
Conceptual Design
Construction Documents
Construction Plans
Construction Details of hardscape elements
Conceptual Grading Plans
Irrigation Plans
Planting Plans
Lighting Plans
Construction Administration
Permitting
Project Coordination of the full team of design consultants
Water Conservation
3D Digital Modeling
OUR EQUESTRIAN PROJECTS
What excites us about these projects are the many opportunities to creatively work out design solutions harmonizing equestrian needs with human and vehicular requirements.
Tim Smith, our principal landscape architect, enjoys sharing his knowledge of horses and design to creatively develop master plans that are not only safe and efficient but also beautiful and reflective of the client's goals.  He gained practical experience by working at his father's farm, Pegasus Stud in Lexington, Kentucky, working at the Keeneland and Fasig-Tipton Sales, and studying the many farms for which his father, an equine veterinarian, worked. Enhancing Tim's practical experience, he regularly consults with his brother, Jeff Smith, the farm manager for Ashview Farm in Versailles, Kentucky, and his father, Dr. James D. Smith, a veterinarian of equine medicine at Hagyard Equine Medical Institute.
Our professional services for Equestrian Facilities, large or small, include the following:
Site Selection:
Site Feasibility Studies and Analysis to determine practicality of the potential site regarding the Client's specific needs. This has proven helpful to clients considering the purchase of land for equestrian type development.
Site Planning:
Conceptual layout of facility including locations of barns, residences, roads, paddocks, auxiliary structures and service areas.
Construction Documents:
Development of plans detailing the construction of barns, fencing, walls, paving, irrigation, planting, lighting and water features.
Construction Administration:
Assist Client in reviewing the construction process.